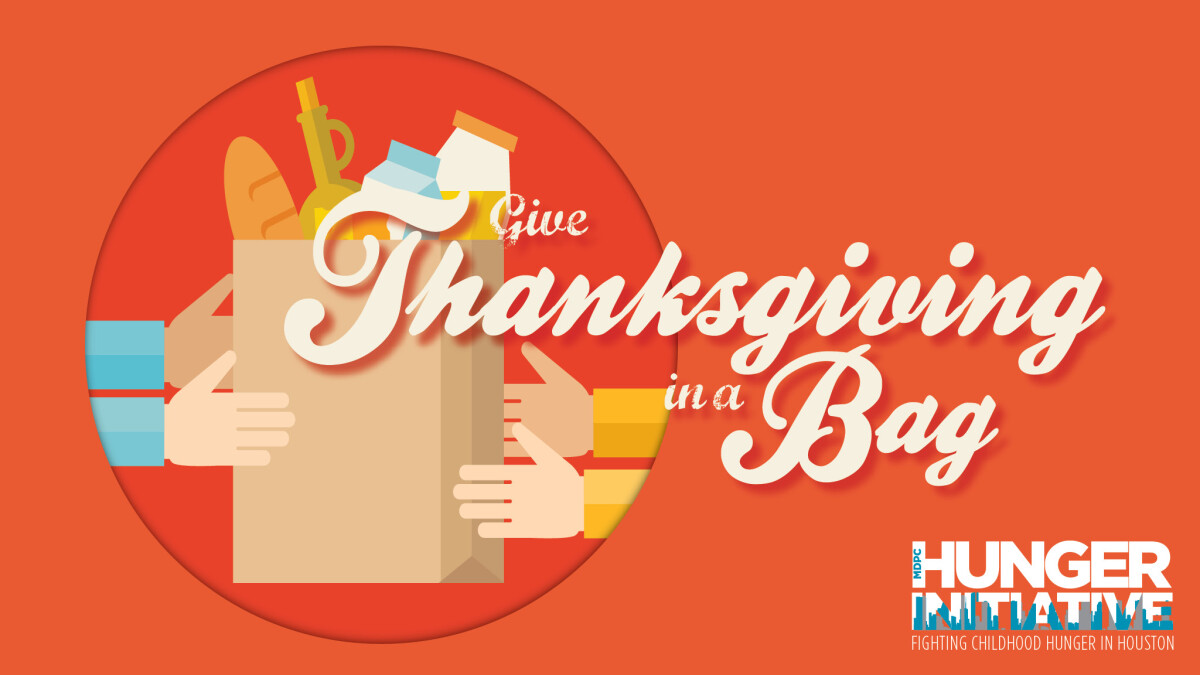 Sunday, November 12, 2017, 8:00 AM - 12:30 PM
Drop off deadline: Sunday, November 12
Join in on MDPC's ongoing initiative to fight hunger in Houston, and help others celebrate Thanksgiving. With the recent disaster, there are more than the usual number of families in need. MDPC is trying to fill 1,000 bags this year - and we need your help!
Fill one (or even two, if you're able) grocery bags with the items listed below and return them to MDPC no later than November 12. You're welcome to enclose a note or greeting! These non-perishables will be given to a family in need along with a bag of fresh produce and a turkey.
1 can green beans
1 can corn
1 can tomatoes/sauce
1 can pinto beans
1 can chicken broth
1 can fruit or fruit cocktail
1 package stuffing mix
1 small bottle vegetable oil
1 package cornbread mix
1 box cake mix and tub of frosting
1 package Jell-O
1 package pasta
1-lb bag dried beans
1-lb bag of rice
1 package cookies
The Thanksgiving Meals-in-a-Bag will go to our ministry partner East Spring Branch Food Pantry. On Monday, November 20, families that have been recommended by counselors at 19 Spring Branch ISD elementary schools will receive food. The next day, families from the community will be served until all the food has been distributed.
THANK YOU for your much-needed and much-appreciated participation!
Click here to learn more about the MDPC Hunger Initiative, our focused effort to fight food insecurity in Houston.