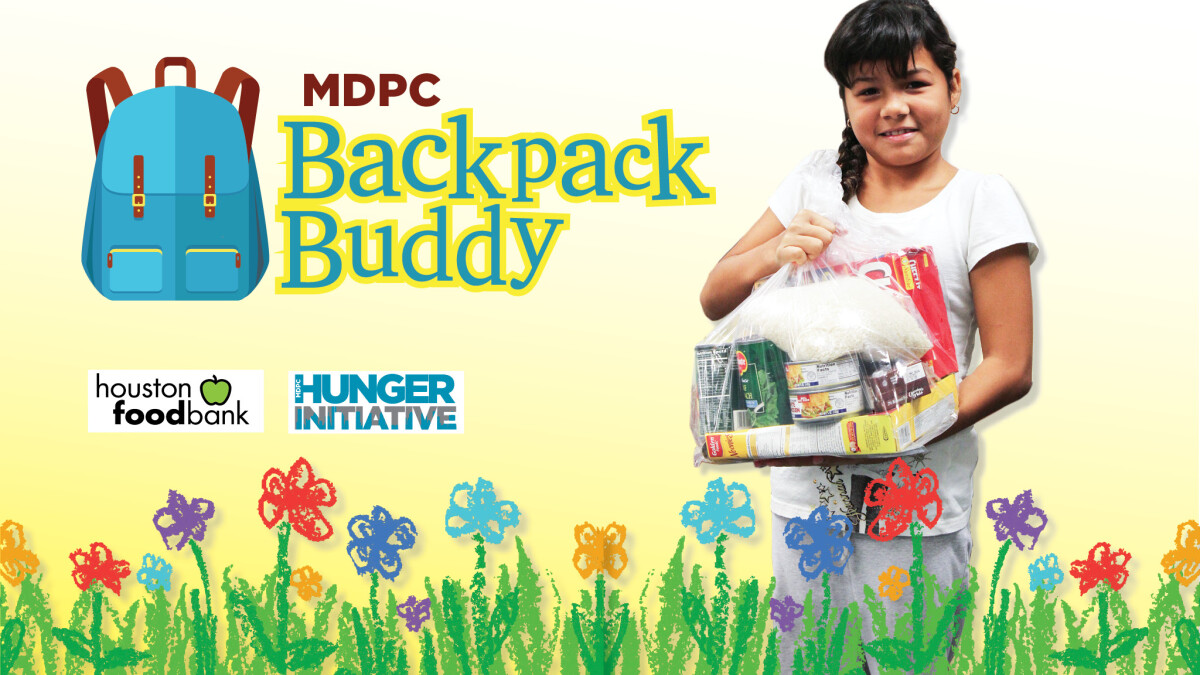 Saturday, December 08, 2018, 8:00 AM - 12:00 PM
The MDPC Childhood Hunger Taskforce is excited to announce a brand-new collaboration with Houston Food Bank, SBISD, and Spring Woods Middle School aimed at feeding hungry children. We know that education is a key element in escaping poverty, but we also know that a hungry child does not learn as well as his or her well-nourished counterpart. A lack of food at home means that a child is missing critical nourishment needed for growth and development, both physical and mental. We want every child to have the best possible recipe for success – a healthy body, mind, and spirit. So how can we facilitate this?
The Backpack Buddy Program
In school, meals are available to children at breakfast and lunch, but when that child goes home on the weekends, there may be no food in the pantry. Backpack Buddy is a program designed to provide healthy food to students who otherwise would go hungry on weekends. At-risk students (identified by the school's teachers and counselors) are sent home each Friday with a bag of food.
MDPC is honored to sponsor 120 students at Spring Woods Middle School in the buddy program for the upcoming school year. And you can help! Twice per month, a team of volunteers will travel to Houston Food Bank to fill backpacks for the students.
Our first Backpack Buddy Team trip to HFB is Monday, September 10th! The commitment is only a few hours in the morning, and we'll ride there together on the MDPC church bus, assemble food backpacks, and return to church by noon. For September signups, register at bpbuddy.mdpc.org.
2018 Backpack Buddy Volunteer Dates
Monday, September 10
Monday, October 8
Saturday, September 22
Saturday, October 13
Monday, November 12
Friday, November 23: BLESS Friday Project
Saturday, December 8
Monday, December 10
MONDAYS:
Ride the MDPC bus! Arrive at MDPC by 7:45 AM; bus departs promptly at 8:00. You also can meet us at HFB at 8:50 AM. You will be finished by Noon.

SATURDAYS:
Meet at Houston Food Bank at 8:00 AM. You will be finished by Noon.