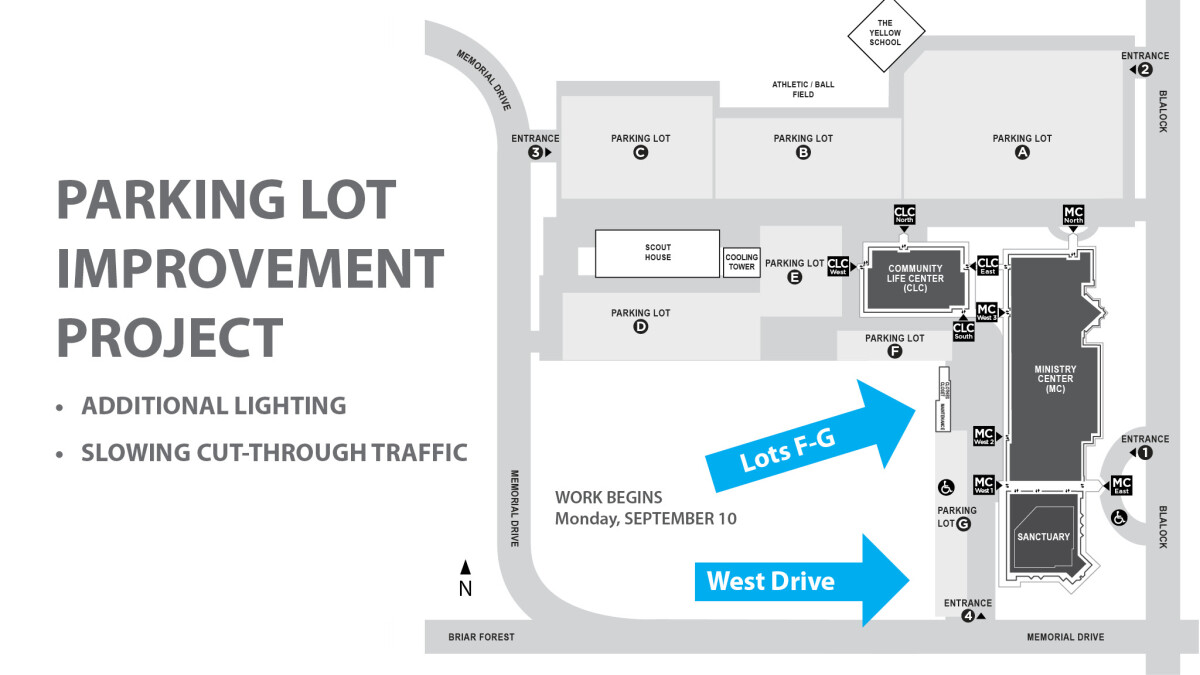 Tuesday, September 04, 2018 - Thursday, November 01, 2018
Thursday, September 6 Update
Lot F, Lot G, and West Drive (see graphic above) will be closed Monday 9/10 through Friday 9/21. No one will be allowed to park in or access these areas.
All parking will be

OPEN

on Sunday 9/16. If you park in Lot F or Lot G, please exercise caution as this will still be a construction zone.
The far north side of Lot A is the material and equipment storage area.
The circle drive by the Parlor might have some work done during the phase-1 period. This will not affect use of the circle drive, but may affect traffic flow out to Blalock. There will be a monitored path for cars needing to exit MDPC onto Blalock.
Thursday, August 30 Update
Beginning September 4, MDPC will begin a parking lot improvement project aimed at increased safety through additional lighting and traffic redirection and slow-down.
The contractor, Forney Construction, will begin by erecting a construction fence at the north end of Lot "A", where materials and equipment will be delivered. The project is expected to complete by November 1, and this includes two weeks for weather delays.
The MDPC Facilities staff is meeting daily with the construction personnel to coordinate construction activities with the MDPC event schedule. Every effort will be made to minimize disruptions to Sunday and weekday events, however, some inconvenience should be expected.
The west drive is scheduled to be closed to all traffic from Monday, September 10 through Friday, September 21. This includes Sunday, September 16. (This statement is subject to refinement / modification as the date draws closer.)
The Yellow School carpool lane will be relocated at some point; additional details will be forthcoming.

Please direct any questions to MDPC Project Manager Miguel Perez at 713-953-2571.