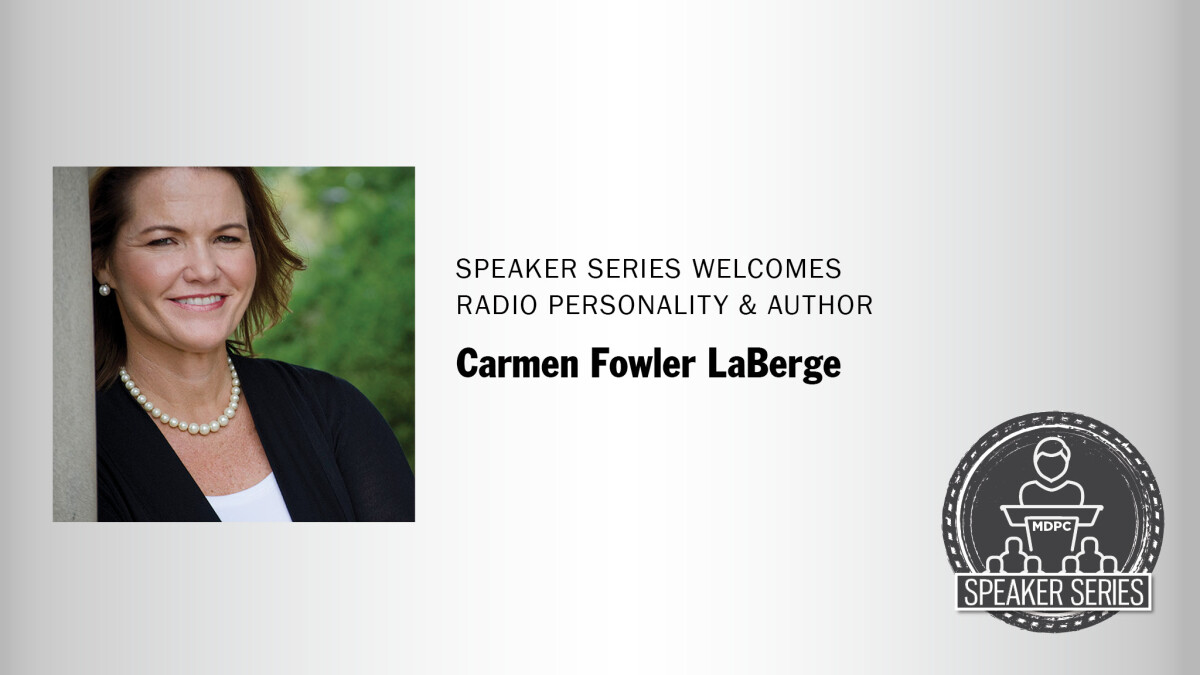 Daily
Speaker Series with Carmen Fowler LaBerge
On Thursday, September 19, MDPC planned to host radio personality and author Carmen LaBerge, but Tropical Storm Imelda had other plans. Though the live event was cancelled due to weather, we were able to capture her presentation on video. We hope you enjoy Carmen's talk on Does God Belong in Our Conversations?
If you are interested in purchasing a copy of Ms. Laberge's book, Speak the Truth: Bring God Back Into Every Conversation*, copies are available through Martha Moore in Equipping Ministries through Thursday, September 26. Thereafter, they may be purchased online or at local bookstores.
Speaker Bio
Mornings with Carmen launched in February 2019 building on the successes of The Reconnect with Carmen Laberge (2016-2017) Connecting Faith with Carmen LaBerge (2018). The Reconnect was the National Religious Broadcaster's Radio Program of the Year in 2018. Carmen is the author of Speak the Truth: Bring God back into the Conversation, available in print and audio editions.
Carmen's passion is helping people reconnect the eternal with the everyday by equipping Christians to engage the culture in ways that honor Jesus. She has written for ChristianityToday.com, the Christian Post, and other outlets.
Prior to radio, Carmen served in mainline Christian ministry for 17 years (including at MDPC as an Interim Associate Pastor!) and nine additional years as the President of Reformation Press (the Presbyterian Lay Committee). During this time, she cultivated an ability to stand firm as a convictional Christian as the denomination of which she was a part undermined its own Scriptural and Confessional foundations. But even as denominational battles were lost, Carmen won the respect of those with whom she openly disagreed. Carmen speaks with authority but also with humility and humor.
Carmen is a graduate of the University of Florida and earned an M.Div. from Princeton Theological Seminary. She lives outside of Nashville, TN with her husband, Jim, and family.