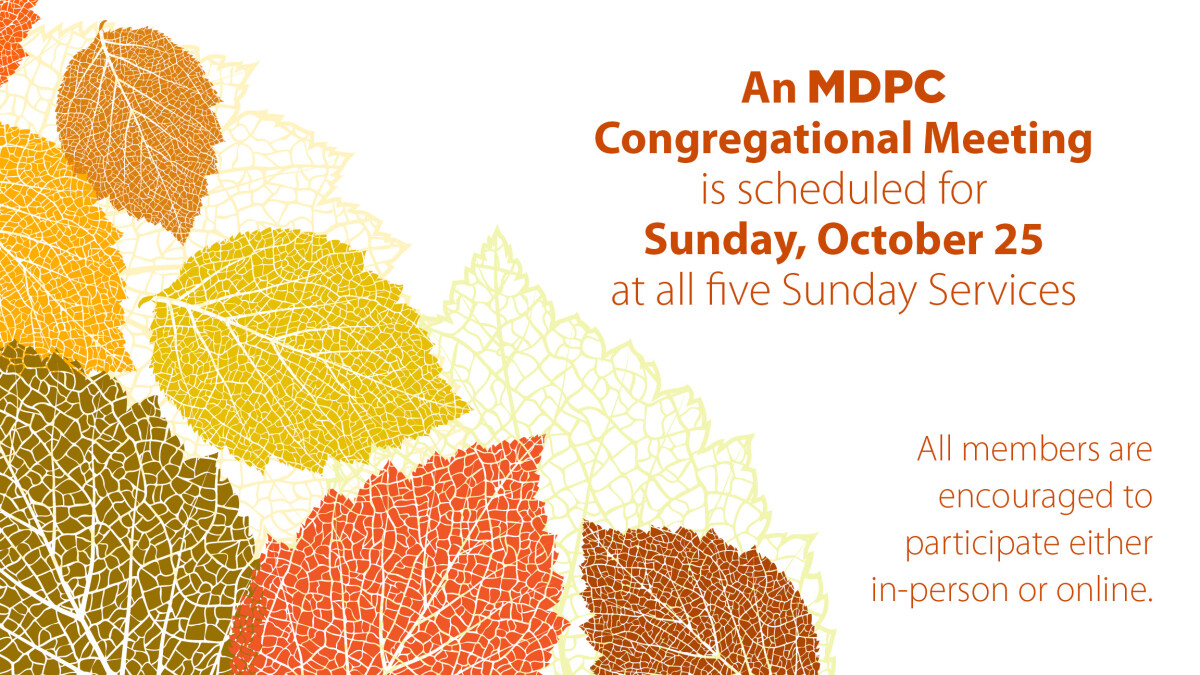 Sunday, October 25, 2020, 9:25 AM - 12:15 PM
Please join us for an MDPC Congregational Meeting where we will consider five motions put forth by staff and Session.
The Five Motions
Motion One
Consider a motion to approve virtual/online congregational meetings in the event of a natural disaster or health pandemic which prevents in-person meetings from taking place.
Motion Two
To approve the revised MDPC Bylaws and Certificate of Formation as presented. Use the links below to review the documents in their entirety or to see a summary of the changes.
Review a Summary of the Changes
View the Restated and Amended Bylaws
View the Restated certificate of formation
Motion Three
To elect the presented slate of nominees for the office of Elder, Class of 2023:
Name | Position
Kelly Handel | Administration - Clerk Elect-elect
Gerald Bennett | Administration - Personnel Elect-elect
Oliver Aldrich | Administration - Treasurer Elect-elect
Don Poarch | Administration – Generosity
Katie Cooper | Administration – Legacy Giving
Barbara James | Children's Elementary
Joy Dubinski | Children's Preschool
Mickey Peters | Connections – New Members
Jim Stinson | Equipping Small Groups
Amber Caver | Outreach - Local
Allison Daughtry | Outreach – Local
Ellie Torres | Outreach - Global
Eddie Perdomo | Relationships – Men's Ministry
Xavier Trevino | Worship & Music
Sharon Johnson | Young Adults
Erin Bounds | Youth - Outreach
Motion Four
To elect the presented slate of nominees for the office of Deacon, Class of 2023:
Name | Position
Rebecca Davis | Alpha Prayer Ministry
Sharon Fox | College Ministry
Danielle Shindler | Connections Team
Andre Verona | Intercultural Ministry
Jo Ballard | Memorial Receptions
Mona Williams | Memorial Services
Stephanie Peters | Online Community
Motion Five
To elect the presented slate of nominees to serve on the 2021 Nominating Committee:
Name | Position
David Nelson | Clerk Elect - Moderator
Jerry Blurton | Immediate Past Clerk
Kelly Handel | Clerk Elect-elect
Chris Arend | At-large
Carla Bradford | At-large
Miah Collins | At-large
Bob Croyle | At-large
Susan Starling | At-large
Nimia Tillmann | At-large
Dave Steane | Executive Pastor (Advisory only)