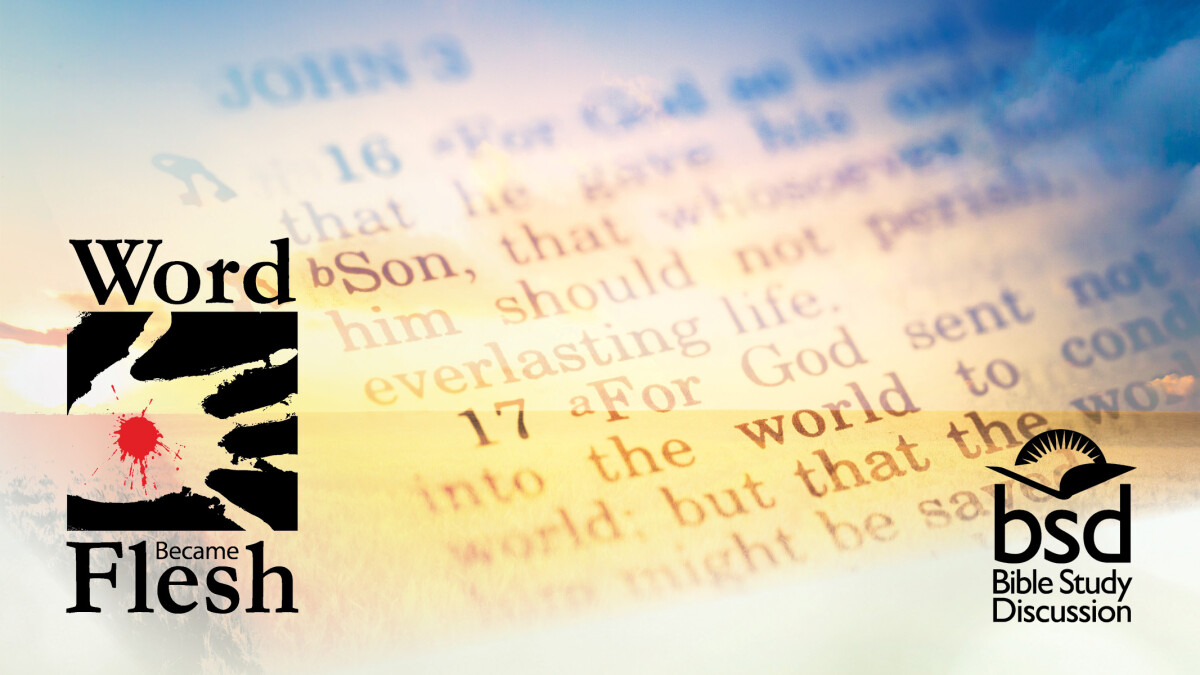 Every Sunday, Wednesday, Thursday from 09/14/2017 to 04/19/2018
BSD 2017-2018: WORD BECAME FLESH

A STUDY OF THE GOSPEL OF JOHN
Because God created us, loves us, and wants a relationship with us, the Word became flesh…the Word is Jesus. Out of His great love for us, Jesus lived among us, taught us, died for us, and conquered death! Jesus lives and gives believers the gift of eternal life!
BSD 2017-2018 looks at Jesus through the eyes of His disciple, John. We will discover Jesus as The Lamb, The Only Son, The Bread, The Light, The Gate, The Good Shepherd, The Resurrection, The Life, The Way, The Truth, The Vine, and The Word. We will explore how Jesus wants us to live in relationship with God and in relationship with others. Join us this year as we come to know God by knowing Jesus!
BSD's Three-part Model
Personal study: Use the provided study guide to preview and prepare yourself for each week's lesson.

Small group discussion: Our small groups provide the opportunity to grow in faith with fellow Christians. All ages and denominations are welcome! Monthly luncheons encourage Christian fellowship with fellow group members.
Lecture: Teaching leaders give live talks on Thursdays, which then are made available on MDPC's website and app, and through the BSD Facebook page.
Do you have Children?
Sundays: Free childcare and children's Sunday School are available.
Wednesdays: Free childcare is available.
Thursdays: Free childcare for children as young as 3 months, and Bible Buddies (no cost) for ages 2 to 5 provides singing, prayer, Bible stories, and crafts.
SCHEDULE OPTIONS
We invite you to join Word Became Flesh at any of the five times it is offered:
Thursdays, 9:30-11:30 AM | Women
Small Group Discussion with Live Lecture begins September 14
Free childcare for ages 3 months to 5 years, with Bible Buddies for 2 to 5-year-olds
BSD Thursdays Bible Buddies Registration
Sundays, 9:45-10:45 AM or 11:15 AM-12:15 PM | Co-ed
Small Group Discussion begins September 17
Free childcare and children's Sunday School available

Wednesdays, 5:00-6:00 PM | Co-ed
Wednesdays, 6:30-7:30 PM | Women
Small Group Discussion begins September 20
Free childcare available