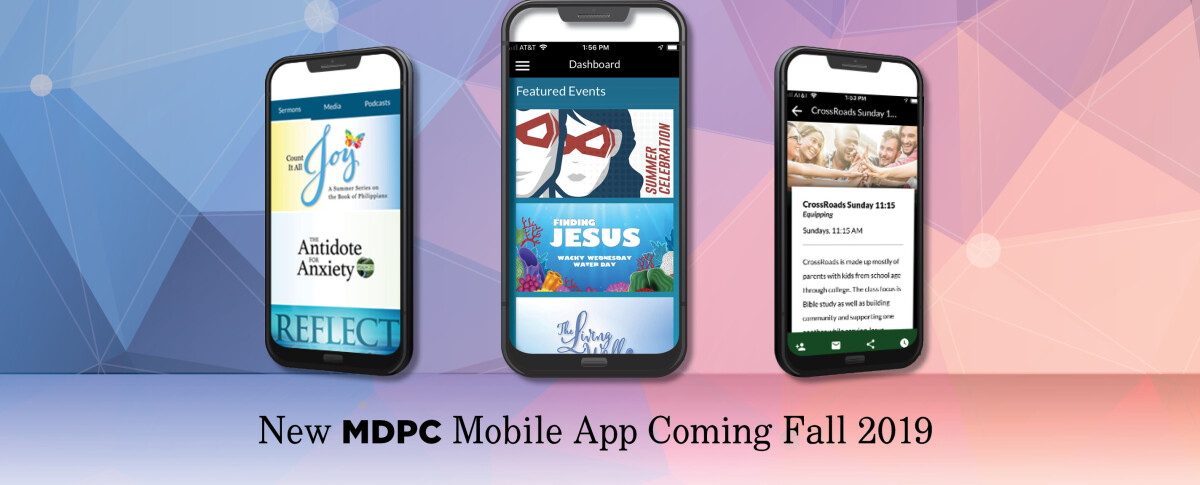 Daily, from 06/26/2019 to 09/30/2019, 12:00 AM
We've rolled out a new mobile app!
The new MDPC app's tools and design deliver an experience that's simpler, yet more useful and enjoyable. Many of the features are customized to your needs, all with the intent of making it easy to engage in the life of MDPC:
In-app live sermon streaming
Event calendar
Event registration
Small Group and Class finder*
Opportunities to serve
Access to your MDPC database profile
Recordings of sermons, Word & Worship, Men's Life, and more!
*If you are a member of a Class or Small Group, you DO NOT need to enroll through the app. Ignore the "Sign Up" button that appears on the Class or Group screen in the app; it will appear even though you already are signed up.
Download the app at these links:
Once the app is installed, the next step is to log in to your account. Most members, attenders, and guests have a profile in the MDPC database, meaning they also already have an account. The easiest way to log in is with your email address or phone number. (Note: You will only be able to log in with a phone or email if MDPC has one on record for you.)
The few who may not have an account can create one easily. On the app's opening screen, tap the drop-down bars in the upper left corner and the Dashboard will appear. Tap "My Profile" at the bottom of the screen, and you'll be prompted to create a new account.
This is a great time to upload or update a personal photo on your MyMDPC account! The app makes it easy: Just tap on your profile photo once you're logged in.
App Training
Sunday, August 18 | Between Services
Still having trouble accessing the app? Visit The Nook (next to MDPC's Front Office), where volunteers will be happy to help.
We'll also have a photo booth set up to assist you in including or updating a profile photo.
If you need app help in the meantime, you can ask for assistance by sending an email to .