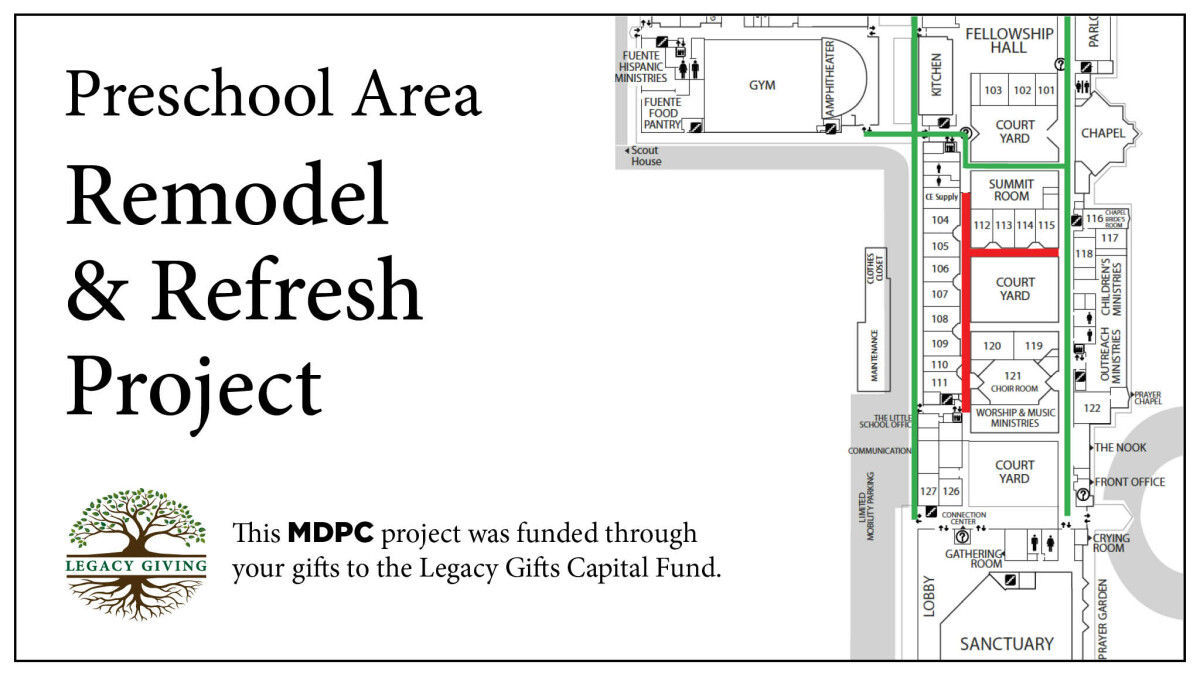 Thursday, July 25, 2019 - Friday, August 16, 2019
The latest project funded by The Legacy Giving Fund concerns the remodel of our Preschool classrooms. These rooms are used on weekdays by The Little School, by Ark Adventures on Sunday mornings, and by Child Care Plus throughout the week.
Friday, August 16 Update
Work is wrapping up on the Preschool Room Remodel! The freshly floored, painted, and outfitted rooms will be ready for Sunday School classes this weekend, just in time for Fall Kickoff.
Thursday, July 25 Update
Today we begin the update and maintenance to The Little School rooms on the first floor of MDPC's Ministry Center.
The hallways marked red in the graphic at the top of this page will be closed from July 25 through (approximately) August 16. Please use one of the alternate paths, marked green.
Every effort will be made to minimize disruptions to Sunday and weekday events. However, children's classes normally held in these rooms will be temporarily relocated:
INFANTS & CREEPERS - No temporary room


Kangaroos I & II: Room 118
Bears I: Room 117
TODDLERS
Bears II: Temp Room 119*
Elephants I & II: Temp Room 120*
*Entrance across from Children's Ministries Office
2-YEAR OLDS
Turtles I & II: Temp Room 206 (upstairs)

3-YEAR OLDS
Giraffes I & II: Temp Room 209 (upstairs)
PRE-KINDERGARTEN 4s & 5s
Zebras I & II: Temp Room 210 (upstairs)
Questions about the children's room assignments can be emailed to Preschool Director, Mayra Escamilla. Questions about facilities can be emailed to MDPC Project Manager, Miguel Perez.