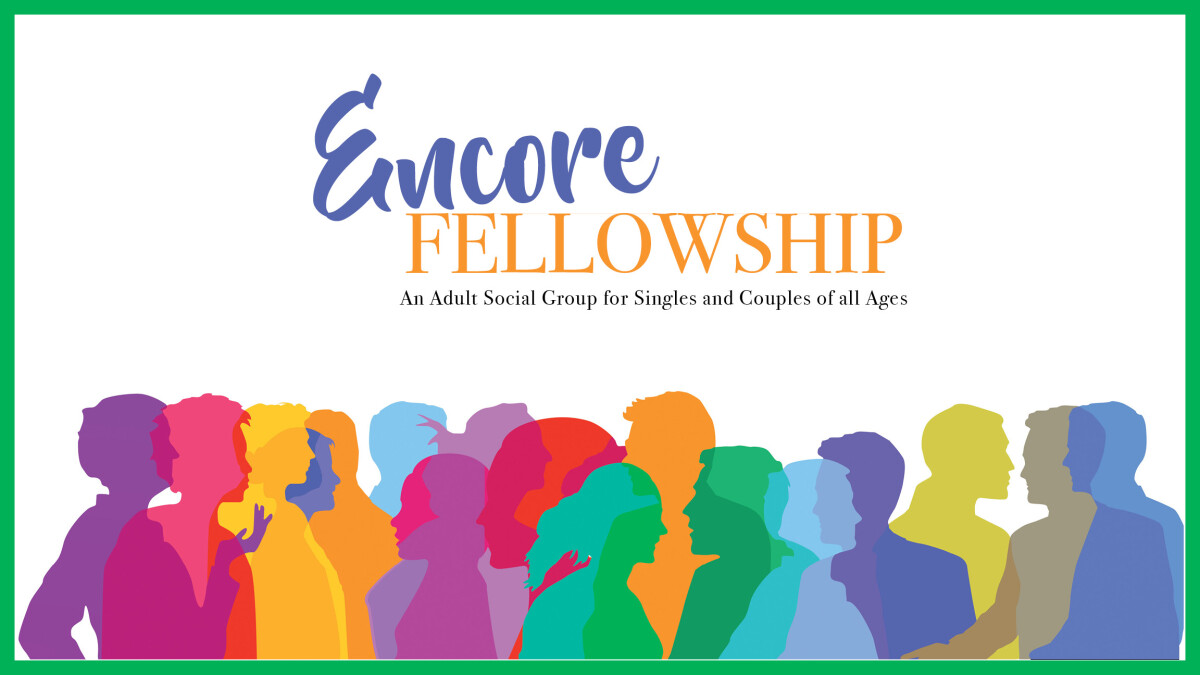 Thursday, October 07, 2021, 5:30 PM - 7:00 PM
Contact: Betsy Chalmers ( )
ENCORE FELLOWSHIP is an MDPC group for adults of any age or marital status. Join us for various social events out and about in Houston, where participants may enjoy the fellowship of other members.
Fall 2021 Events
Palazzo's Restaurant: Oct 7 • 5:30p
Gather with old friends, meet new friends, and enjoy a great meal at Palazzo's on BriarForest at Beltway 8. This popular Italian trattoria offers delicious cuisine and a welcoming atmosphere.
Join us for cocktails and fellowship at 5:30 and dinner at 6:30. Dinner includes a three course menu: choice of salad ( House or Caesar), entree (Pollo JJ, Beef Lasagna or Pasta Palazzo) and dessert (Tiramisu, Bread Pudding or Banana Carrot Cake) for $25 per person. To make a reservation, mail your check payable to Encore Fellowship to Betsy Chalmers at 12202 Taylorcrest, Houston, Texas 77024, to be received by October 1. (Please enclose a slip of paper indicating your meal choices).
Mister McKinney Historic Downtown Bus Tour: Saturday, Nov 13
Mister McKinney, an historian and lecturer at Rice University, narrates tours in an open air school bus. The tours will take place in TWO shifts with groups departing (promptly) at 10:30 and 11:30a. Each group will meet in the parking lot of the Buffalo Bayou Cistern, at 105b Sabine St. (77007). Following each tour, enjoy a Dutch treat lunch at Cadillac Bar, located at 1802 Shepherd Dr.
Reservations for this event are currently full; please email Betsy Chalmers to be placed on a waiting list ( ).
2022 Spring Wine Tasting: Date & Details TBD
Relax and enjoy a fun evening as you connect with others from MDPC at this wine tasting event. Learn about and sample a variety of Texas wines.
The Jersey Boys! at TUTS: May 2022 (Date & Details TBD)
The Story of Frankie Valli and the Four Seasons in the Tony Award-winning true-life musical. "From the streets of new Jersey to the Rock and Roll Hall of Fame"
About MDPC Encore Fellowship
MDPC Encore Fellowship is an inviting and caring community that is open to adult singles and couples of all ages. We plan a variety of special events and programs throughout the year and we invite you to join us for any or all events!
To receive information, register, or to join a waiting or maling list, contact Betsy Chalmers
at
Learn more at encore.mdpc.org
Encore executive board
Betsy Chalmers, Susanne McClean, Jan Roe, Marsha Timby, Jan Tomlinson, and Mona Williams
Join our mailing list
To join our mailing list and get more information about these events, as well as other 2021-2022 social activities, send your name, phone, email, and street address to Betsy Chambers as indicated above. We hope you will join us for fun fellowship.