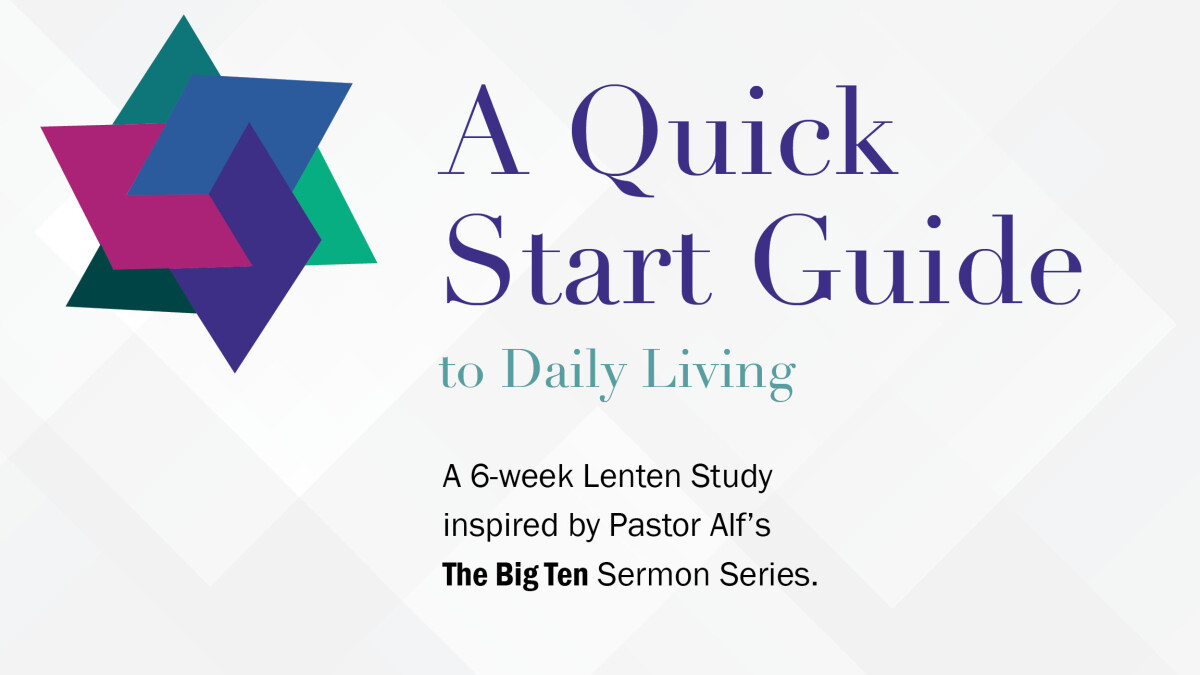 Every Sunday, Wednesday, from 02/21/2021 to 04/03/2021, 9:45 AM - 12:15 PM
A Lenten Study Inspired by Pastor Alf's Big Ten Sermon Series
The 2021 Lenten small group study is A Quick Start Guide to Daily Living: A Lenten Study Inspired by Pastor Alf's Big Ten Sermon Series. We will take a 6-week-long "quick start" look at Christian living through the lens of Commandments 5-10 of the Ten Commandments. These commandments focus on Christian living and loving our neighbors—a perfect study for Lent!
Groups meet once a week, usually by Zoom, for 60-90 minutes. Some homework is required before each session, including the first one.
A number of new groups, have been created for A Quick Start Guide to Daily Living. These new groups are co-ed unless otherwise stated and meet on a variety of days and times, so pick the group that works best for you.
Choose a Group and Register Here
Also, we encourage all our existing groups and classes to use the study. The Pastors' Class will teach the study on Sundays, February 21-March 28.
The studies parallel Pastor Alf's series, but they don't repeat. Instead they forge their own way with additional Scriptures that amplify Commandments 5-10, along with an Observe-Interpret-Apply style of questions to help us dig into each commandment.
Download the Study Guide (PDF)
The study guide (downloadable above) is a fillable PDF. You can type in your responses, or print it out and handwrite them. Printed copies will not be available. If you have difficulty accessing the PDF, contact Equipping Ministries' pastor, Clay Brown, at or administrative coordinator, Kami Vaughn, at and they will take care of your need.
The MDPC Pastor's Class
The Pastors' Class, at both 9:45 and 11:15 AM in the Amphitheater and by Zoom, will offer a large group version of A Quick Start Guide to Daily Living for Lent and then continue at least through Memorial Day Sunday with other studies.
Here is the Zoom information for the 9:45 class:
Sundays February 21 through May 30, 2021
One tap mobile
+13462487799,,96200475826# US (Houston)
Dial by your location
Find your local number: https://zoom.us/u/azAbvaDOe
Here is the Zoom information for the 11:15 class:
Sundays February 21 through May 30, 2021
Join Zoom Meeting ID: 962 0047 5826
One tap mobile
+13462487799,,96200475826# US (Houston)
Dial by your location
+1 346 248 7799 US (Houston)
Find your local number: https://zoom.us/u/ac3P1bpXBN