Music
Experience Music Ministries at MDPC! Whether as part of the audience, or part of the performance, opportunities abound. Each participant is offered the opportunity for spiritual, musical and relational growth. The joy of making music together provides experiences that bring us closer to God and to one another…
Contemporary Music
When you hear the word "contemporary," it may conjure a style that is for a specific demographic or type of person, but our contemporary service is filled with people of all ages, stages, and walks of life.
Contemporary refers to something that is happening, existing, living, or coming into being at the same time – I can think of no better way to describe our worship experience. Our desire is to connect people with an existing, living God, as we come together through exciting modern worship, deep thoughtful hymnody, and personal expression of our love for Him.
When you visit the Contemporary Service, you will be welcomed by a great community of people, and experience a very real encounter with the living God.
be a part of the Sanctuary Choir!

Dr. Hausmann will lead the gathered singers in a mini-rehearsal providing an opportunity to experience choral singing firsthand. The pandemic-induced worldwide silence of choirs has created the need for rebuilding and reimagining. This will be a time to streamline activities - making it easier and more attractive for you to participate (even if you do not regularly attend 11:15 worship). Flexible commitment options and more—sing for a Sunday, a month, a quarter, or for the season; shorter rehearsals with alternative online practice support, and personally edited music available electronically. We are actively seeking new singers to join in this ministry—and you are needed now more that ever.
"After ten years of singing with the MDPC Sanctuary Choir, I am excited to be the new Choir President. The choir is the largest "small group" at MDPC, and the fellowship has been so impactful for me. This choir nurtured me through personal struggles and family catastrophes, and celebrated with me during so many of the happy landmarks of my journey, like my doctoral graduation and my wedding. The choir and its members have been a cornerstone of my young adult life.
There is nothing better in the world than making music with your friends, especially when it glorifies God. The music lends so much to the text—and it sticks with you! It's the best way to memorize scripture verses while giving of your time and talents.
Maybe you're nervous. You don't have to be the best reader; we'll put you next to someone who can help you along. You don't have to have a professional voice, either; the joy of choir is that we all blend in together to make one JOYFUL NOISE to God.
Come join our musical family. Yes, you! Try us out for a week or two and see how much fun it is."
–Dr. Cassandra Black, Choir President
All Are Welcome!
Our Sanctuary Choir participates at the 11:15 AM Sunday worship service. Led by Dr. Charles Hausmann, Director of Adult Choral Music, and Kathryn White, Coordinating Music Director & Organist, the Sanctuary Choir presents hymns and inspirational choral classics both in worship services and in concerts throughout the year.
Consider joining The MDPC Sanctuary Choir, an outstanding ensemble of voices of all ages, backgrounds, and ability levels. When you are in a choir like this one, your voice takes on new power and you will feel it immediately. Worshiping in song is powerful in itself, but in a choral context it takes on a new dimension! You can enjoy regular participation or sign on for limited terms, such as individual concerts or church seasons. The calendar is set a year in advance so you can decide how it best fits your schedule. Rehearsals are on Wednesdays at 7:00 PM.. They are instructive sessions to coach your vocal and musical potential. I invite you to sing this season with the Sanctuary Choir! If interested, please contact Charles Hausmann.
For more info contact Tracy Stidam, Worship & Music Coordinator: or 713-490-0946
2020 Choir Calendar | 2020 Music Schedule (Repertoire)
Like our Choir's Facebook Page | Like our Concert Series Page
Watch our Choir Perform, Holy Ground
Music Box Kids' Choir
Do you have an awesome kid? Do they love to sing? Then bring 'em to The Music Box Kids' Choir! This ensemble is for all kids in elementary school to learn about the fundamentals of music and choral singing in a fun and worshipful environment. They'll be featured in seasonal programs, and even have the opportunity to lead worship on Sunday mornings! The program's directed by Meliza Gómez, MDPC's Contemporary Music Director.
Schantz Pipe Organ
In 2000, Memorial Drive Presbyterian Church commissioned the Schantz Organ Company of Orrville, Ohio to build a pipe organ for its newly renovated sanctuary. The organ was designed and constructed to meet the diverse musical requirements of the active music ministry, dynamically support and encourage the hymnody of the Presbyterian tradition, and accompany various styles of choral music, while effectively rendering order literature for all periods. The organ embodies the efforts of well over one hundred laypersons, craftspeople, artisans and musicians. From the noble tone of the Principal chorus, to the softest whisper of the flute stops and the declamatory shouts of the Tuba, this organ now joins a tradition centuries old — that of calling the faithful to worship and stirring amongst them that which inspired the likes of Bach, Luther, Watts and Wesley. We are deeply grateful for the love of God expressed so perfectly in Jesus Christ that has inspired both the giving of this instrument and the music it plays.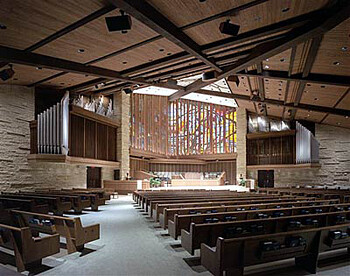 Schantz Pipe Organ
Click here to view specifications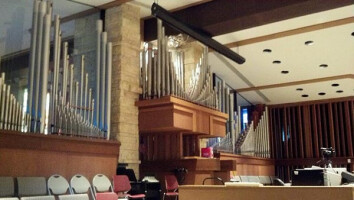 Casavant Pipe Organ located in the balcony of the Sanctuary
Chapel Pipe Organ