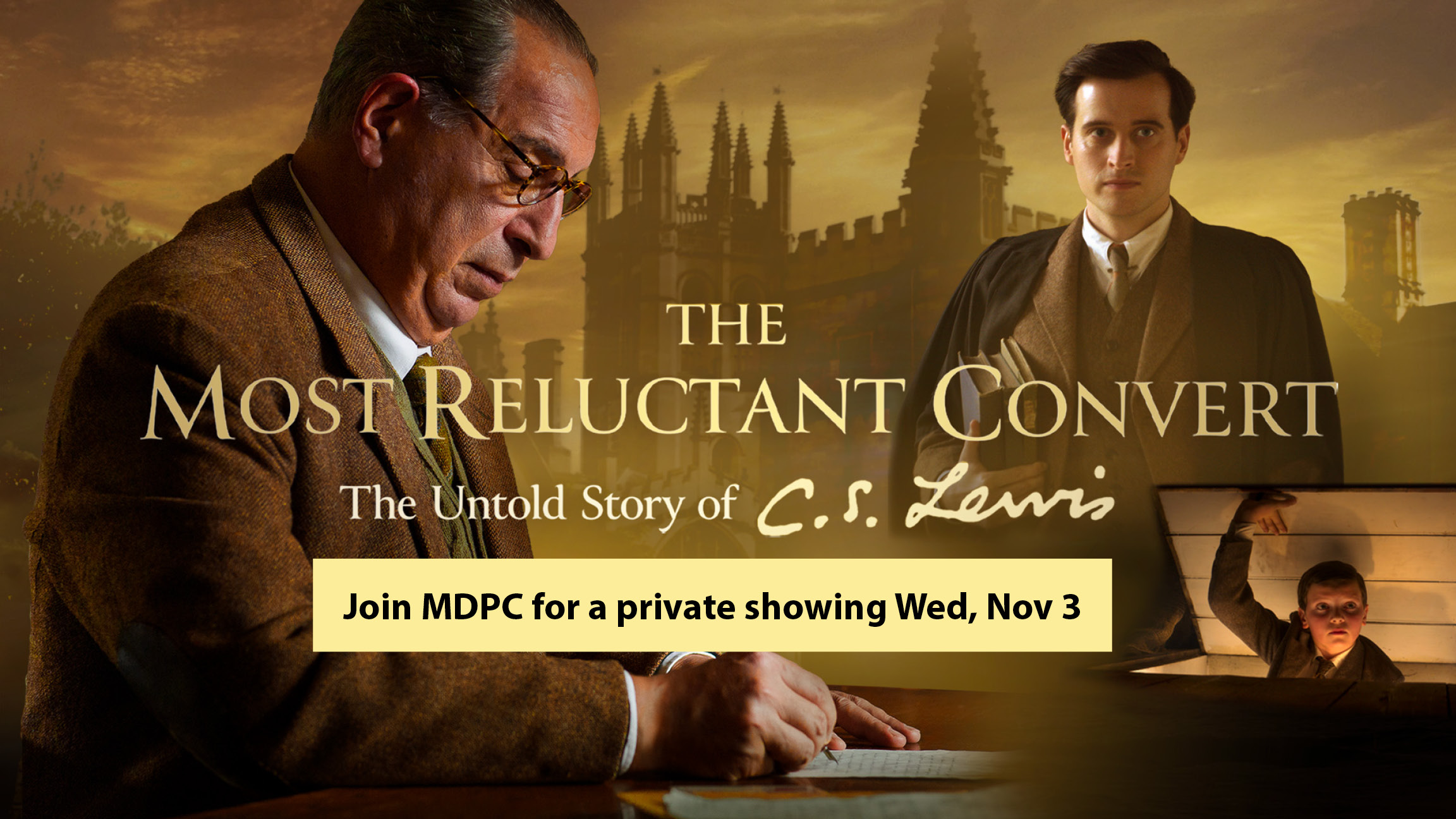 PLEASE NOTE: MOVIE TICKETS ARE SOLD OUT.
Join us for the premiere of The Most Reluctant Convert: The Untold Story of C.S. Lewis! Limited seating available, so purchase your tickets today.
The Most Reluctant Convert features award-winning actor Max McLean as the older Lewis and Nicholas Ralph – breakout star of PBS Masterpiece's All Creatures Great and Small – as young Lewis. Beautifully filmed in and around Oxford, this engaging biopic follows the creator of The Chronicles of Narnia from the tragic death of his mother when he was just nine years old, through his strained relationship with his father, to the nightmare of the trenches of World War I to Oxford University, where friends like J.R.R. Tolkien challenge his unbelief.
Written for the screen and directed by two-time Emmy and BAFTA winner Norman Stone (BBC's Shadowlands), The Most Reluctant Convert brings to life the spiritual evolution of one the 20th century's sharpest minds and keenest wits.
Registration is required. Bring your printed receipt from your registration and pick up your ticket at the Cinemark Memorial City at 6:45 pm, before the show. NOTE: Our movie will have open seating only. Please ignore the seat location printed on your tickets.
Your $5 per ticket fee will support the ongoing ministry an MDPC global partner, the Pars Theological Centre, focusing on the training and encouraging of the Iranian underground church's leaders.
Interested in this subject?
Consider joining Clay Brown for a two-week class on C.S. Lewis and Mere Christianity on the two Wednesdays following the movie.
C.S. Lewis: Right and Wrong as a Clue to the Meaning of the Universe (From Mere Christianity)
Nov 10 & 17 • 7:00-8:00 pm