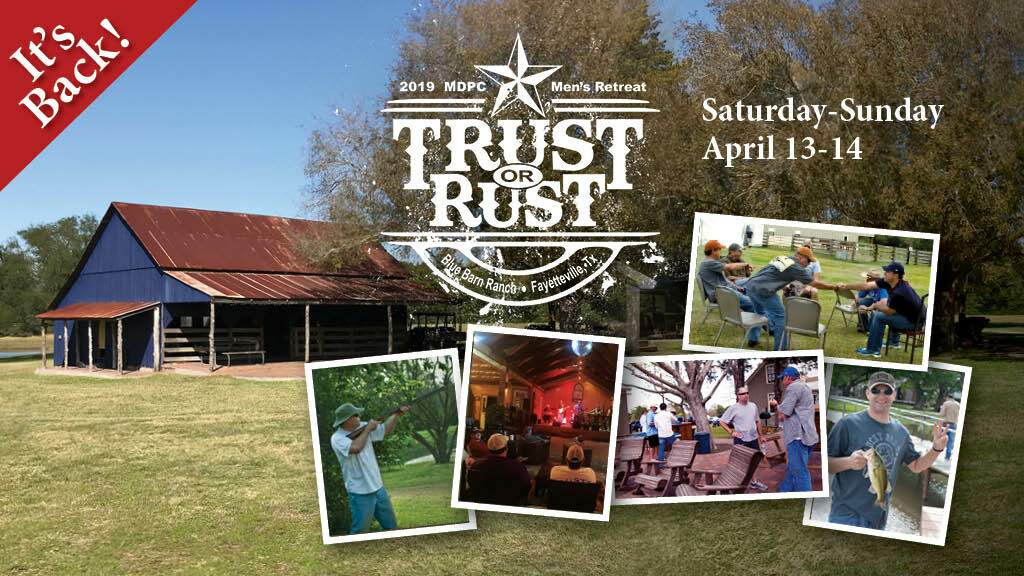 Saturday, April 13, 2019 - Sunday, April 14, 2019
The world-famous MDPC Men's Retreat is back! What happens when you mix an amazing ranch in nearby Fayetteville, Texas with shooting clays, good ranch food, and an entertaining speaker? A life-changing weekend!
Don't miss the chance to get away from the usual rat race routine to focus on fun, fellowship, and a closer walk with Christ. You can pitch washers, fish for bass, shoot clays, enjoy live music, try your hand at late-night poker, or just enjoy sitting in the presence of God at the beautiful Blue Barn Ranch. There is something for everyone.
Men arrive late Saturday morning in time to get checked in and settled, and then it's time for a big Welcome Lunch. Then on to clay shooting, fishing, lounging around, or catching up with friends. Late afternoon, our guest speaker will talk to the group, followed by a full-blown ranch-style dinner catered by Joe's Place. The night will end with live music, washers, poker, and being out under the stars. On Sunday morning, we'll wrap the weekend up with Cowboy Church.
Speaker: Roger Wernette
Roger served Young Life for 13 years before eventually becoming the Executive Director of The Gathering of Men in Houston. Roger grew this ministry to include a network of over 3,000 men who have participated in small groups and other events, including the annual Greater Houston Prayer Breakfast. Roger loves Jesus, is a great teacher of the Bible, and has a profound calling toward men's discipleship. He also has authored two books, Wholehearted and Invited: The Call of a Lifetime. He is married to his lovely wife, Suzie, and has two grown kiddos, Ryan and Chris. Rumor has it he's also a 7 handicap in golf.
Don't miss what many consider to be the most impactful retreat they've ever attended. Block this special weekend date out on your calendar and plan on inviting a friend or two along for what is sure to be an exciting round-up.